You Lucky Dog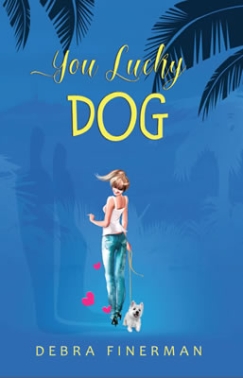 Published by Stewart's Grove Press
True love never dies, it lives on after death...
You Lucky Dog is the unlikely love story of Jake and Emma, a young couple thrown into a very unusual situation.
Jake and Emma appear to have everything going for them. A young married couple, they live with their dog in the leafy suburbs of Los Angeles. But after a horrible accident changes the course of their lives forever, Jake finds himself alive but living outside his body, and in the body of his dog.
What follows is a hilarious and heartwarming tale of misplaced identity. You Lucky Dog explores the mysteries of life and death, and the enduring power of love, in a heartwarming story for animal lovers and all lovers.
Reviews
"Anyone sniffing around for a quick, fun, and romantic story can dig into "You Lucky Dog" to enjoy a terrific tale of love, life, and dogs. The romantic novel follows Jake on his journey from cynical husband to faithful companion — and it has a twist ending you won't see coming. From start to finish, Debra's book offers a fun and refreshing take on romance that'll have readers rolling over with laughter. Whether you're a dog owner or an animal lover, you'll find something to relate to in this incredibly human story about a couple's dogged determination to stay together. If you're looking for a humorous romance novel to read on the beach, this would be a great choice." —
DatingAdvice.com
"You Lucky Dog is a heartfelt romantic comedy that is full of heartbreak and laughter. When Emma loses Jake in a horrific accident little does she know he comes back as their beloved dog. A beautifully written story that will have you laughing one minute and crying the next. The perfect read for a lazy day at the beach." –
Lovely Loveday
"I enjoyed reading this book and kept wondering how the author was going to end it, but all my possible predictions were false. Finerman managed a believable ending, which increased the fun and for the most part cancelled any sadness that one might have felt for these star-crossed lovers." —
Book Loons
"This book was a cute and funny read." —
He Said Books or Me
"A cute book that is original and fun. A lighthearted story that all dog lovers will enjoy. A premise that is quite fascinating to think about became a story that was sweet and funny. A nice quick read for the beach." —
Mrs. Mommy Booknerd's Book Reviews
"As the story enters the many fun adventures of Emma and her husband Jake the dog, Finerman accomplishes the almost impossible: she creates a fun, meaningful novel with an ending that makes us feel good and remain happy. Simply alluring,
You Lucky Dog
by Finerman is one woofy summer read that will not put you to sleep!" —
Champagne Living
"If you're looking for a story that just makes you smile and feel so incredibly happy,
You Lucky Dog
is the book for you." —
Shih Tzus & Book Reviews
"
You Lucky Dog
is a witty, fun, and light-hearted read that will put a smile on your face." —
Cheryl's Book Nook
"This book is cleverly written and a fun read. The story while fantastical leaves room to consider reincarnation as a possibility sans the ability for an animal to actually speak as a human does."
—
Book Pleasures
In Debra Finerman's newest novel, you find out in chapter one that Jake (husband of Emma) has been killed in a car crash. Well not quite. Seems his dog was in the car at the time of the crash and now somehow Jake finds himself alive, but living in the body of his dog. Oh, and he can talk too. So, suspend all disbelief and go with the flow, and you will find this a fun and funny, delightful beach read. And dog lovers will give this an added star. —
The Three Tomatoes
"For dog lovers like me, this book is such a pleasure to read and dig your canines into while chewing a rubber ducky. I was having a ruff day earlier when I started reading
You Lucky Dog
by Debra Finerman, and before I knew it, I was wagging my eyebrows and chomping on my stuffed teddy bear while laughing out loud at Jake the Dog and Emma the human. This has been such a paws-itively happy, funny and terrier-ific story!"
—
Coffeeholic Bookworm
"This was a very unusual but heart-warming read. You Lucky Dog deals with themes of life and death and how true love never dies. Jake is a highly likeable character and some of his exploits as he gets to grips with his new doggy identity make for humorous reading. The story is well plotted with twists and turns with an array of fun characters (both human and canine) and is wonderful escapism." —
Chicklit
"A really heart-warming story of love, loss, a potential second chance to at least have the chance to have your love back and say goodbye (in this case though she doesn't have to right now). The story also has its funny moments when Jake has to learn to live as a dog. That means taking poops, playing with toys, dealing with other dogs, scratching, licking and getting groomed. If you like dogs and love stories this is the book for you." —
Red Carpet Crash
Paperback | 322 pages | $9.99 USD | 9781521233993 | June 6, 2018